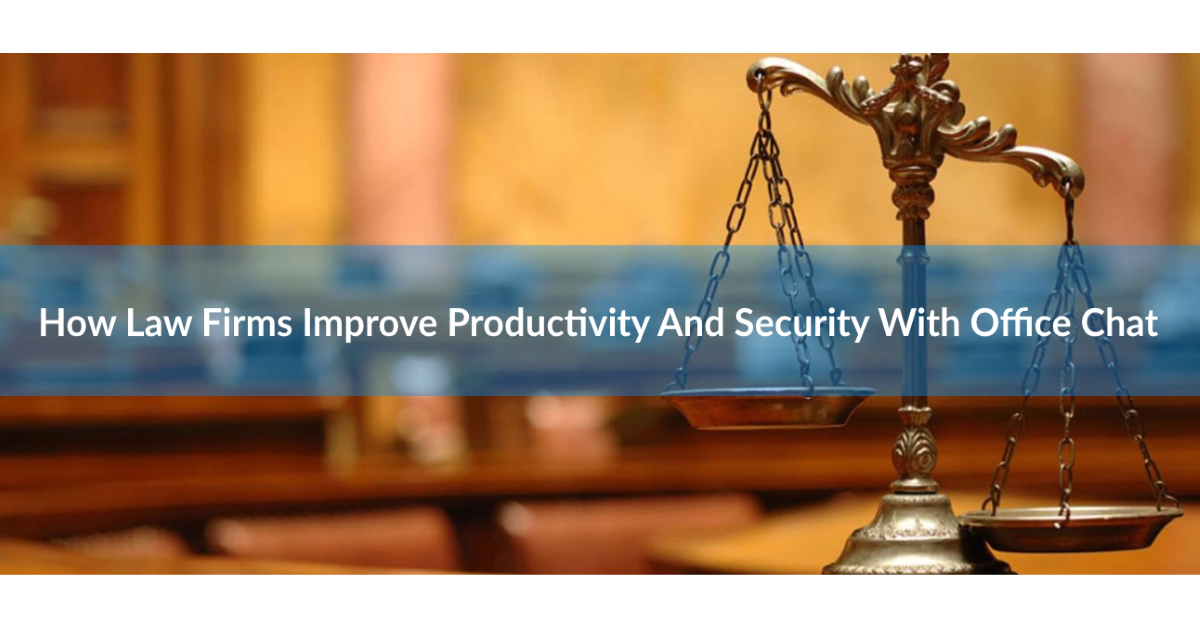 Today, instant messaging applications have become a major part of our lives and have completely redefined how we interact and engage with others. Though our personal lives might have been influenced heavily with the advent of smartphones and instant messaging apps, data theft and security breaches are a major concern that modern workplaces face each single day. While consumer-grade apps such as Whatsapp might be popular among your employees, only a few business-grade instant messaging apps such as Office Chat ensure that workplace communication stays highly secured and confidential. One such major industry that thrives on confidentiality and security of data is the legal industry. While there is no doubt that today's workplace is rapidly transitioning from emails to highly collaborative instant messaging applications, the modern day law firm will have to choose a secure business-grade instant messaging app that suits its stringent security needs.
Office Chat, with an aim to improve communication and enhance better interactions within teams, offers a highly secure and reliable solution that can be used by legal and advisory firms. As opposed to the traditional inefficient means of communication still in use in many law firms, Office Chat has the best of instant messaging and security features that gives you complete control over your official network. With Office Chat, law firms can be rest assured that their communication and documents shared with colleagues and teams is highly secured, as opposed to consumer-grade applications such as Whatsapp,etc.
Let us look at how your law firm can improve productivity and security with Office Chat:
Secure Private and Team Messaging:


Office Chat team-based groups can help you to create and open lines of communication for specific client/case -based groups to communicate seamlessly and share ideas and documents within the group. This will help improve team communication at work and will also enable them to work towards the larger collective goal. The secure private chats featured within Office Chat will encourage users to interact with colleagues and peers with ease. Managers and supervisors can communicate necessary requirements and feedback with others. One-on-one private chats enable more transparency and promote open communication within the company.
Real Time Messaging:
Many legal professionals work on the go, often meeting and interacting with clients. Office Chat's real time messaging helps them to stay up to date with detailed information. Also, as Office Chat has no SPAM and messages are short and instant.
Improved Flexibility and Productivity:
With Office Chat you can enable flexibility and accountability of your employees, all the while boosting the productivity of your law firm. You can easily reach out to remote employees by ensuring high accessibility from multiple Office Chat platforms such as desktop, smartphone and web browser. You can use the online presence, custom status and huddle/video & voice call features to stay connected with your team. Messages, files, groups and people can be easily searched within Office Chat. Despite any difference in time zones, your employees will have real-time flexibility that is not provided by emails.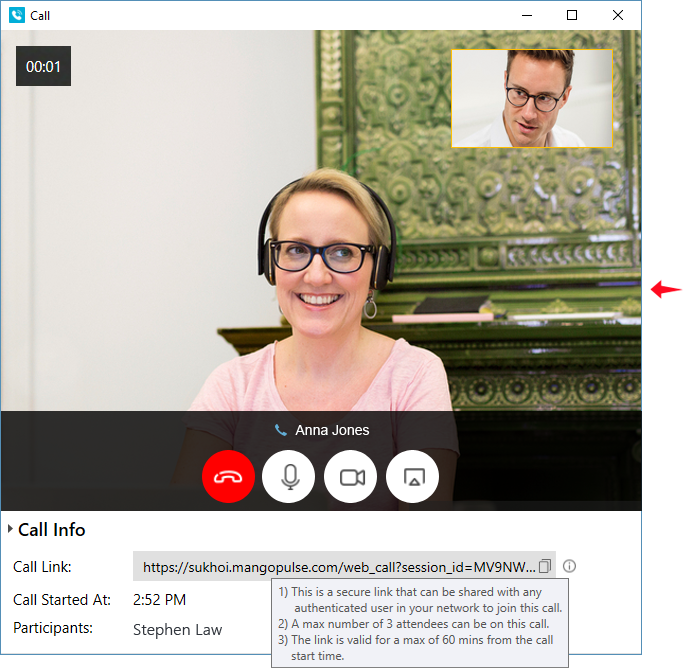 Office Chat allows 1-to-1 voice, video and screen sharing in your private chats. It comes with the added ability to share the URL with a 3rd co-worker to join the call. With an emphasis on having small groups with relevant people, Office Chat enables you to start a 1-to-1 voice, video and screen sharing call from the Windows/ Mac desktop apps and web browsers. You can also join an existing 1-to-1 voice, video and screen sharing call from both iOS and Android Office Chat apps. Check how to make every meeting productive with Office Chat's Video, Voice Calls.
Secure Communication and Document Sharing:
Office Chat delivers proactive security, control and IT compliance over your company's data. All messages exchanged and files shared on Office Chat are encrypted in transit (TLS/SSL) and at rest (256-bit AES encryption). With custom data retention and deletion rules, the admins of your company control how long you want your data stored. Remote device management can be used to disable or wipeout downloaded Office Chat content on mobile devices. Two-factor authentication (2FA) security drastically reduces the risk of online identity theft. User and access management can easily add, remove or investigate users through the admin portal. Also, Office Chat runs on AWS cloud which delivers end-to-end, enterprise-grade encryption and anywhere/anytime reliability so you can be rest assured that your official data is secure regardless of the location of your remote worker.
Office Chat not only gives you the option to send text messages, but you can also share documents, videos and more. Upload files, images and video (any size up to 2 GB) in any conversation. Sharing images, videos, audio and GIFs is as easy as selecting the appropriate icon. With Office Chat, you can simply drag and drop attachments and files. With over 100 GB of file storage and features to search chat history and even file contents, you can easily share relevant files and attachments with your colleagues and managers.
Multi-Platform Support:

We believe that any platform you use must not dictate how effective your communication is and therefore we emphasize that Office Chat is available and supported on all platforms. We offer synchronized release of features on web browsers, smartphone and desktop applications. This ensures that you and your colleagues get the same experience irrespective of the platform they use. Being an instant messaging application created specifically for business, we at Office Chat realize that different users will access the Office Chat network on multiple platforms. While on the go employees can use smartphones and desktop-based and remote employees can work on Office Chat desktop application as well as on a web browser. Office Chat can be accessed on multiple platforms including Android, iOS, Mac, Windows and browsers.
Read Receipt, Priority Messaging and other features:
Office Chat offers host of messaging features that make your interaction with your colleagues much more meaningful. Following are the types of messaging available with Office Chat:
Mark a message as Important: Marking a message as important keeps the message at the top of the recipient's inbox with a red label marked as "Important" until they are read. Additionally, it generates a special notification sound to get the recipient's attention overriding all mute settings.
Mark a message to require a Read Receipt: Marking a message to require a read-receipt enables the sender to know when the message has been read by each recipient.
Set the message to have a Special Effect: You can choose from special effects that can be set along with your message. The recipient will experience the special effect when they view the chat.
Admin Controls:
Office Chat Admin portal comes with full administration control to: manage users, teams, messages, SSO integration with company's active directory, the usage and engagement dashboard, IP-based access, audit logs, security logs, device management, force signout, etc. The following enhanced features help you to gain complete control over your Office Chat network: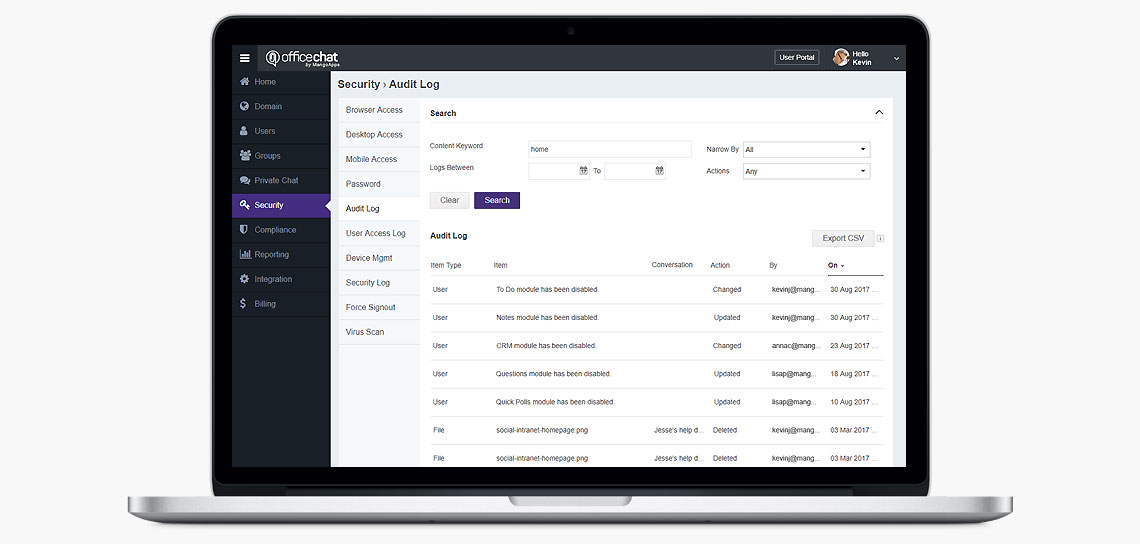 Advanced Security Features: Office Chat helps you track and manage essential changes with the help of audit log. With advanced user access, security logs, IP address-based access control, remote session management, retention & compliance options and security alerts you can be assured that your Office Chat communications are completely secure. Office Chat offers both email and chat support that helps you to resolve any queries in a timely manner.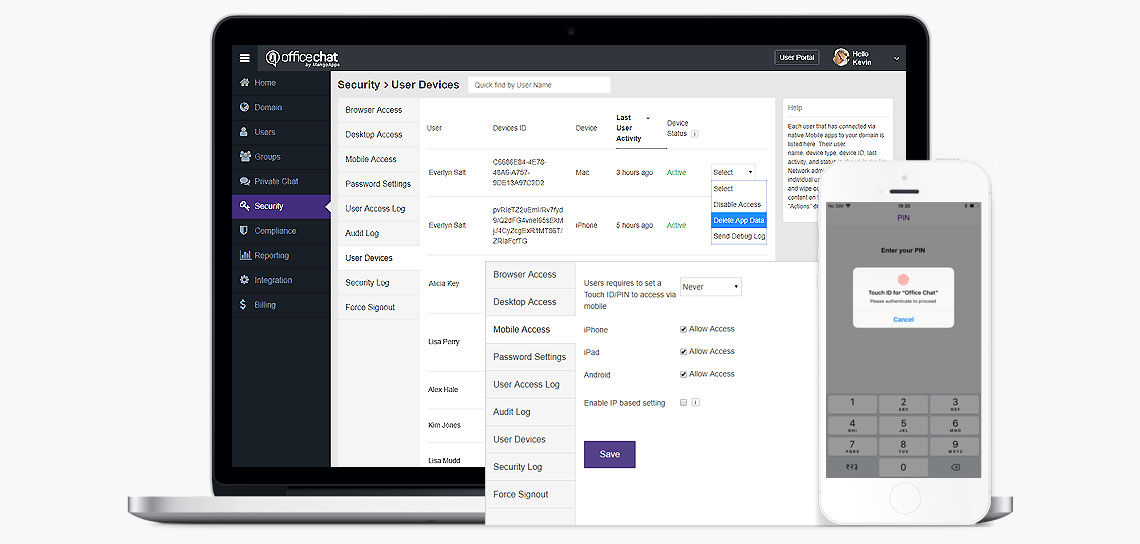 Protection against Data Loss: As a domain administrator, you can make users using Office Chat on iOS/Android to compulsorily set a Touch ID/PIN as a security measure by enabling this feature. Users can themselves protect their devices from unauthorized access by setting a TouchID /Pin. In case the mobile device gets stolen or lost, admins can disable the device using the user devices feature. Also, the admin can remotely delete app data for the stolen device, so that confidential company data is not compromised.
Every legal practice has different needs. Office Chat ensures efficient private interactions, productive team communication, complete administrative control over your official network, better communication with remote employees, and new secure ways to both manage and distribute content. No matter what your practice needs, Office Chat will definately help you become productive and secure your communication.
To learn more about Office Chat instant messaging application, visit www.OfficeChat.com. You can also signup for a free 7-Day trial by visiting our website and clicking on 'Sign Up.' Detailed Office Chat features can be viewed here: https://officechat.com/office-chat-features 
Platforms: Windows, MacOS, iOS, Android |   Pricing: For Startups, Mid-Level & Enterprise 
Trial: 7-Day free demo  | Schedule an Online Demo