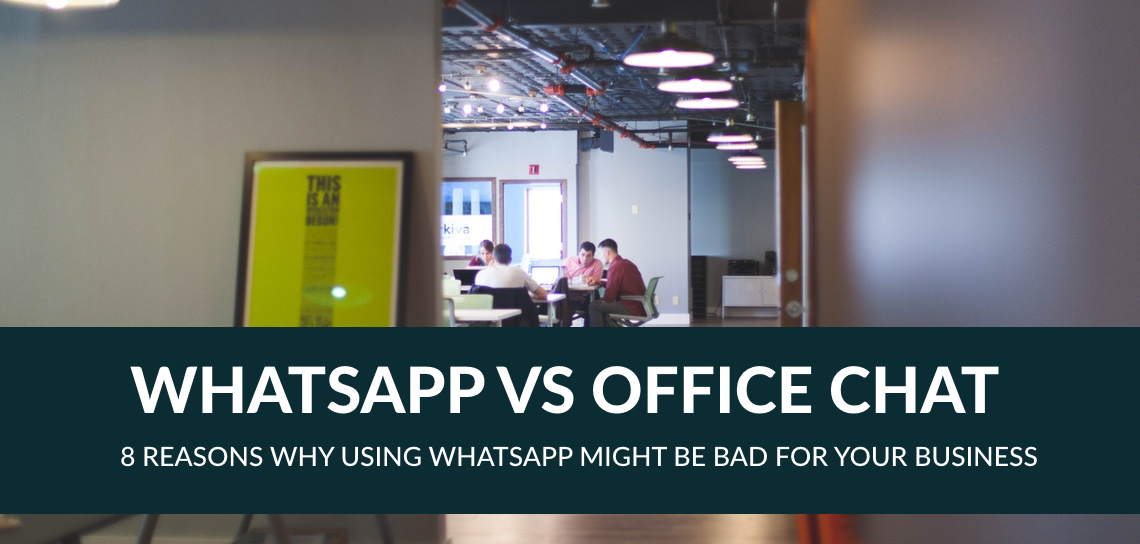 There's no denying that WhatsApp as an instant messaging app has quickly become a part of personal interactions. Though purely intended to be useful only for private communications, WhatsApp is now being used by employees, and even some employers, for business related purposes. Instant messaging apps work phenomenally well in a business environment as they are much faster and efficient than email and can boost productivity and workplace communication. But the use of a consumer-grade messaging application like WhatsApp in a professional business environment is a disaster waiting to happen.
Take a look at these 8 reasons why using WhatsApp might be bad for your business:
1.  WhatsApp makes your business contacts and other sensitive information vulnerable
WhatsApp was acquired by Facebook for  $19 billion in 2014. Given Facebook's dubious data privacy records, WhatsApp was recently ordered to stop sharing user data with Facebook in France. Similar restrictions were applied by Germany and the UK to protect users from a massive security breach. If you are allowing employees to use WhatsApp for business communication using their personal phone number, you are exposing your company to data breaches and huge security risks. WhatsApp can access and save contact lists of employees, which might contain confidential customer data. It also lacks enterprise-level encryption that can protect your sensitive information.
How Office Chat resolves this:
Office Chat is a simple secure instant messaging application that provides enterprise-level security, privacy and compliance features. All messages exchanged and files shared on Office Chat are encrypted in transit (TLS/SSL) and at rest (256-bit AES encryption).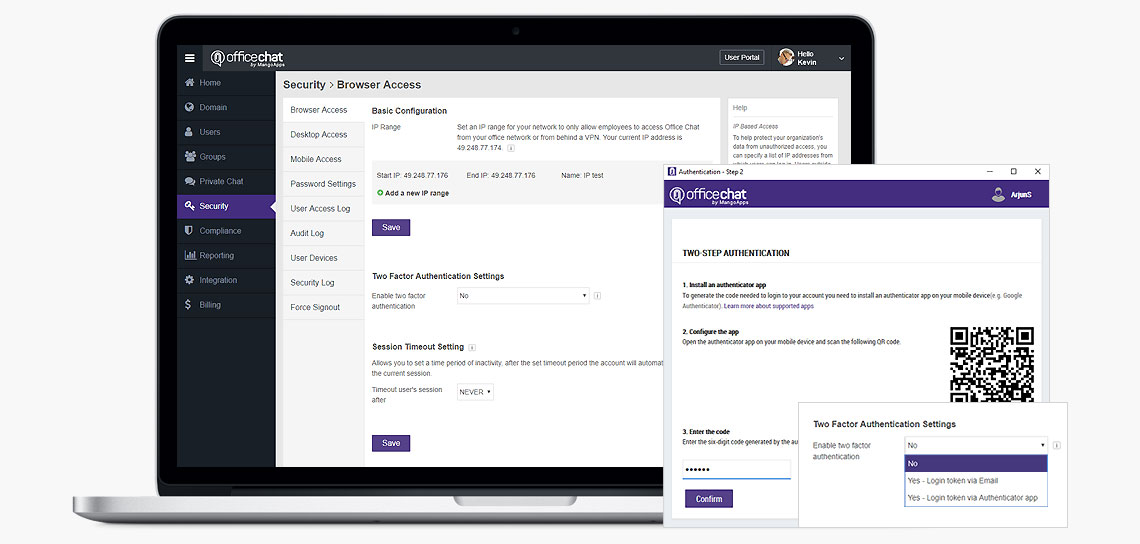 Office Chat delivers proactive security, control and IT compliance over your company's data.
With custom data retention and deletion rules, admins of your company control how long you want your data stored. Two-factor authentication (2FA) security can drastically reduce the risk of online identity theft. Remote device management can be used to disable or wipeout downloaded Office Chat content on mobile devices.
2.  WhatsApp allows private communication to take precedence over business communication
WhatsApp might be a useful tool to communicate with family and friends. But a successful workplace environment requires a certain level of professionalism that extends to business communications too. With WhatsApp, it becomes very easy to let casual personal chats take over professional conversations. Anyone can private message anyone or create unauthorized groups. In addition, as the employee's WhatsApp account is associated with his private number, he can still access this data even if he has left the organization.
How Office Chat resolves this:
Office Chat helps you create a separate business network for your organization. Only people that are authorized or invited will be allowed to access your Office Chat network. Employees can be invited to Office Chat by using their work email addresses or individual login IDs.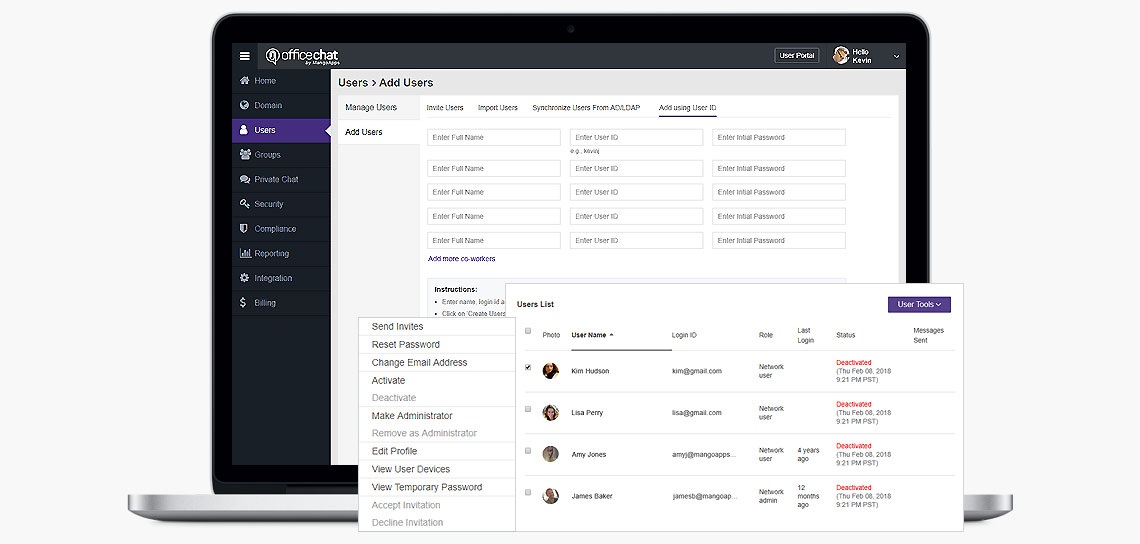 Office Chat offers comprehensive user management controls.
Also, each employee will receive their own secured login credentials to access the Office Chat network. Admins can easily deactivate old users or add new employees to the network by using the admin portal. Also, admins have options to restrict user-driven invitations or user group creation so that company-wide regulations can be implemented.
3.  WhatsApp lacks the features to be an enterprise-level communication solution
A WhatsApp group can only allow 100 users at a time. If you are a large organization, this definitely hampers transparency and free-flowing communication. Even if multiple groups and side groups are created, it becomes difficult for managers and project owners to grasp and take control of day-to-day tasks. If an employee in a large group changes their phone number and this number is not removed from the group, the new owner will still receive all chats. Also, if your employees don't want to share their private phone number with all their colleagues, joining a work-related chat group will not be possible.
How Office Chat resolves this:
Office Chat allows you to add unlimited users to any group. You can create a group based on team, department or project and allow only relevant employees be part of them. Group Chat History, Read Receipt, Important messages and Self Destruct features make sure that messages are communicated and recorded in a secure way.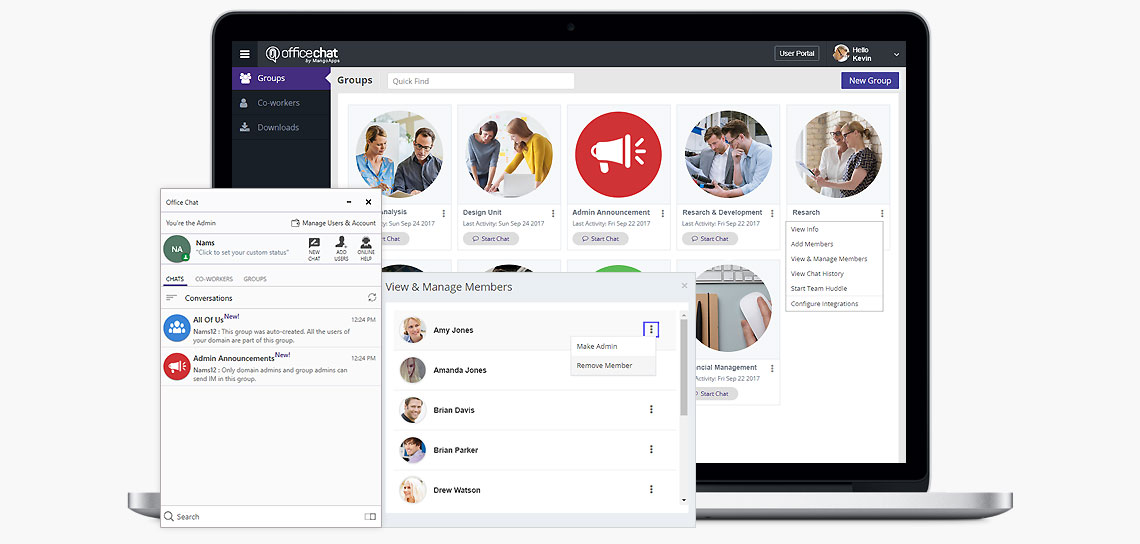 Office Chat groups can be effectively used to collaborate within teams.
Admin Announcements and All of Us are groups that can be used by the management to communicate with the workforce and efficiently minimize noise. It is also very easy to deactivate a user or remove him from a particular group. Searching for relevant groups or colleagues can be handled with ease using Office Chat. Office Chat does not require employees to share their private confidential data in order to be productive in a business environment
4.  WhatsApp does not give you any admin controls
WhatsApp fails to provide a robust admin-based control over your professional network. With an unclear company-wide policy, cumbersome user management, no advanced security features, WhatsApp is sure to become a liability for your organization from the start.
How Office Chat resolves this:
The Office Chat Admin portal helps you to manage users, groups, private chats and basic domain settings. It also allows you set company-wide rules regarding data compliance and retention.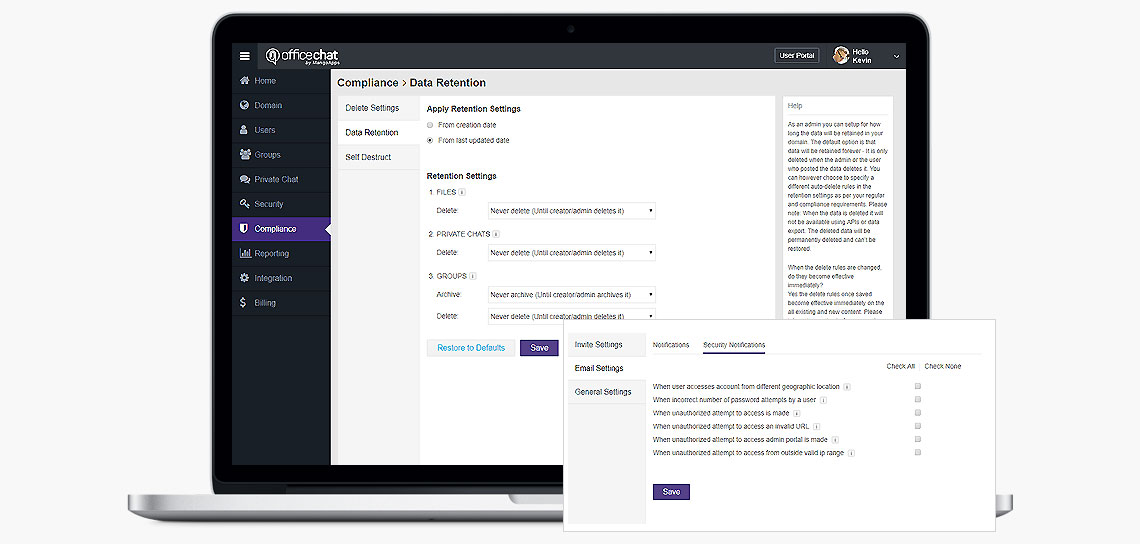 Office Chat admin portal gives complete control to set company-wide rules.
IP based access, Audit Logs, Security Logs, device Management, force signout, etc. gives you a secure comprehensive access control over your Office Chat network.
5.  WhatsApp has no solution to Data Loss
What if one of your employees loses his mobile phone? Without additional features to remotely manage devices, block access or delete app data, your sensitive company data is completely vulnerable.
How Office Chat resolves this: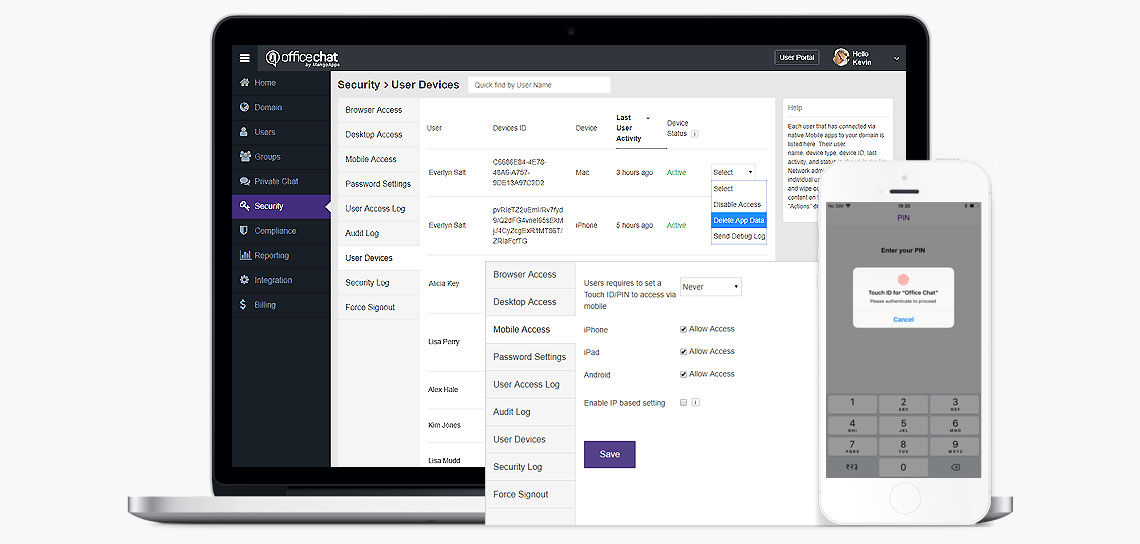 Office Chat empowers both users and admins to ensure no data is compromised in case of any exception.
As a domain administrator, you can make users using Office Chat on iOS/Android to compulsorily set a Touch ID/PIN as a security measure by enabling this feature. Users can themselves protect their devices from unauthorized access by setting a TouchID /Pin. In case the mobile device gets stolen or lost, admins can disable the device using the user devices feature. Also, the admin can remotely delete app data for the stolen device, so that confidential company data is not compromised.
6.  WhatsApp Lacks a Professional Desktop-based Client
WhatsApp is primarily a smartphone-only app. Employees around the world use laptops and desktop computers for their daily tasks. Though there is a desktop app offered by WhatsApp, it still requires that WhatsApp must be installed and seamlessly connected to your phone to function properly.  It requires your employees to switch devices or check for proper connections every time to effectively use WhatsApp.
How Office Chat resolves this:
Office Chat can be accessed on multiple platforms including Android, iOS, Mac, Windows and browsers. Being an instant messaging application created specifically for business, we at Office Chat realize that different users will access the Office Chat network on multiple platforms.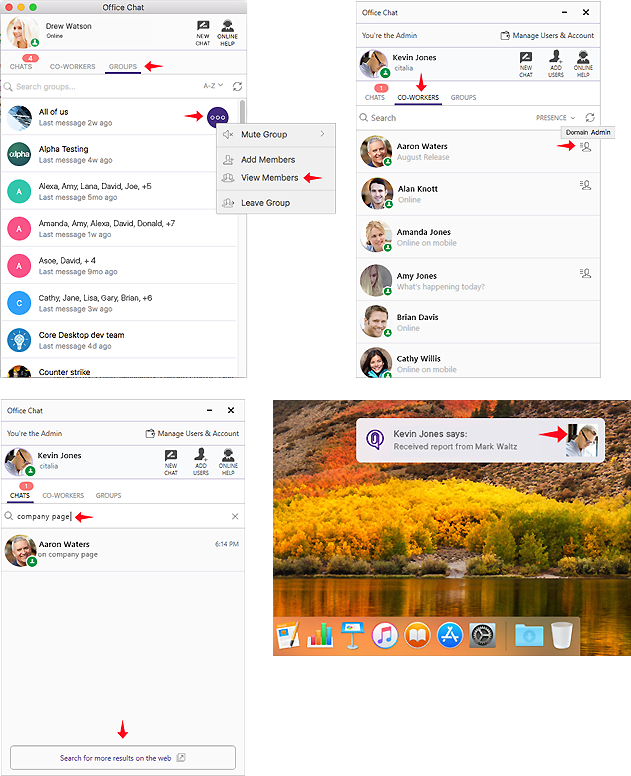 Office Chat desktop app helps employees to be connected seamlessly using laptops and desktops.
Sales representatives, interns, etc. might use smartphones to stay connected as opposed to majority of the workforce that prefers desktop applications. Office Chat ensures that communication is seamless and in real time, no matter which platform you use to access your network.
7.  WhatsApp does not have integration capabilities with other applications
Most organizations use multiple applications to fit their business needs such as Zendesk, Mail Chimp, etc. These applications often require a simple integration mechanism to work in sync with other business applications. WhatsApp lacks the capability to integrate with business tools and adhere to enterprise-level security norms. This hampers the productivity of the workforce as they are forced switch between multiple applications and find workarounds to sync their work.
How Office Chat resolves this: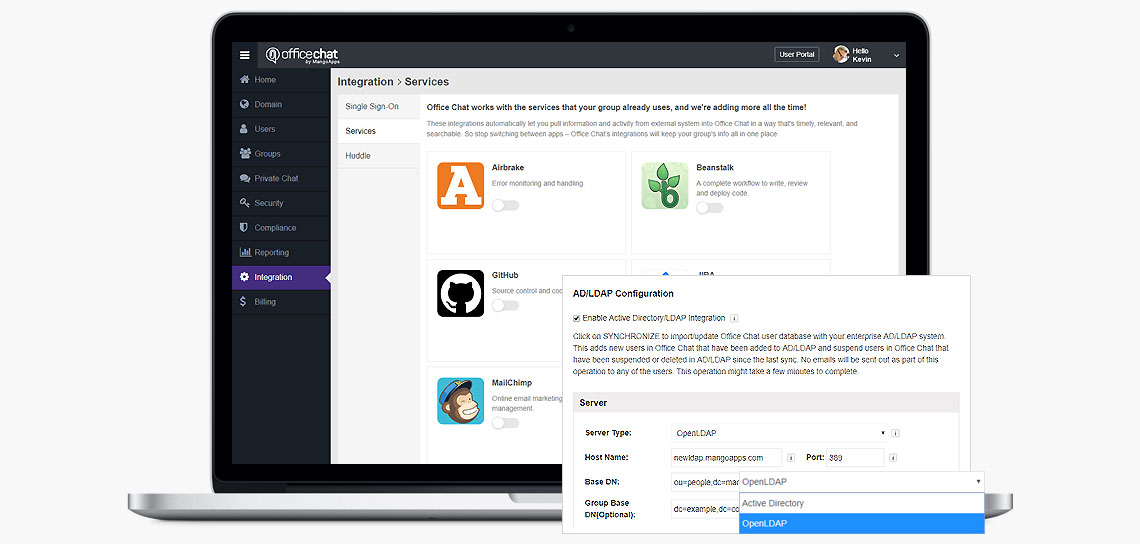 Office Chat integrated with third-party software to enhance productivity of the workforce.
Office Chat helps you integrate with third-party applications such as Zendesk, Pingdom, Beanstalk, Mail Chimp, etc. You can conduct video conferencing using GoToMeeting or JoinMe. You can also sign in to your Office Chat account using your Google Apps account or Active Directory. These integrations will automatically let you pull information and activity from an external system into Office Chat in a way that's timely, relevant and searchable.
8.  WhatsApp lacks support and audit features
One of the basic enterprise features that WhatsApp lacks is the Audit Log feature. There is no way to track or record any changes done with WhatsApp. Also, since WhatsApp is a consumer-level application, there is no emphasis on critical customer support that most business applications provide. Any critical issue or query that your employees might have, will have to be emailed with no defined turnaround time.
How Office Chat resolves this: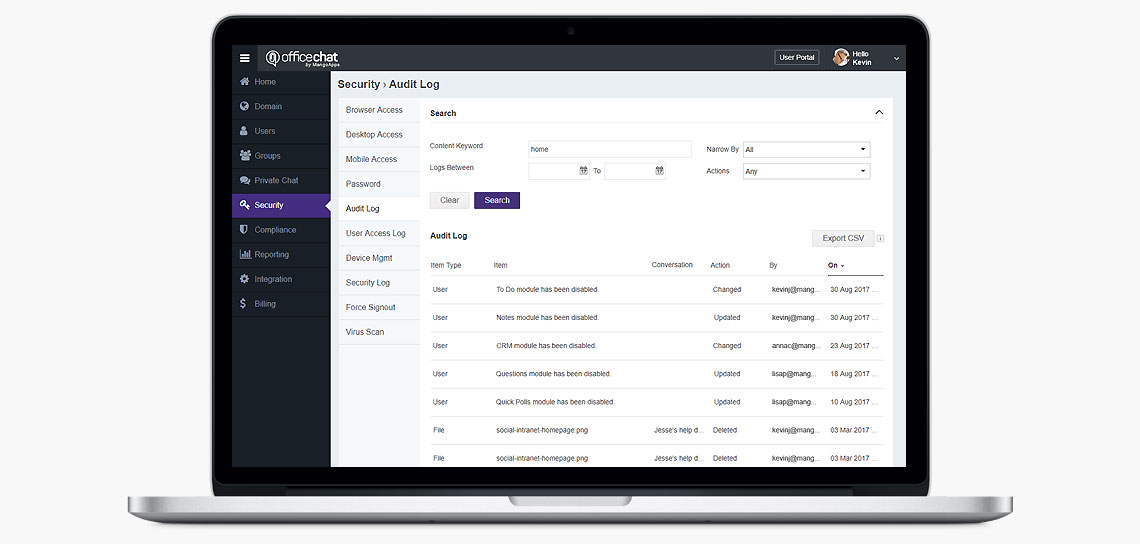 Office Chat Audit Log helps to track, record and manage essential changes within the network
Office Chat helps you track and manage essential changes with the help of Audit Log. With Advanced User Access, Security Logs, IP Address-Based Access Control, Remote Session Management, Retention & Compliance Options and Security Alerts you can be assured that your Office Chat communications are completely secure. Office Chat offers both email and chat Support that helps you to resolve any queries in a timely manner.
You can completely avoid the problems associated with a consumer-grade instant messaging app and keep the increased employee engagement and productivity that comes from using a company group chat. Simply signup for the 7-day Office Chat free trial to create your own professional and secure network.