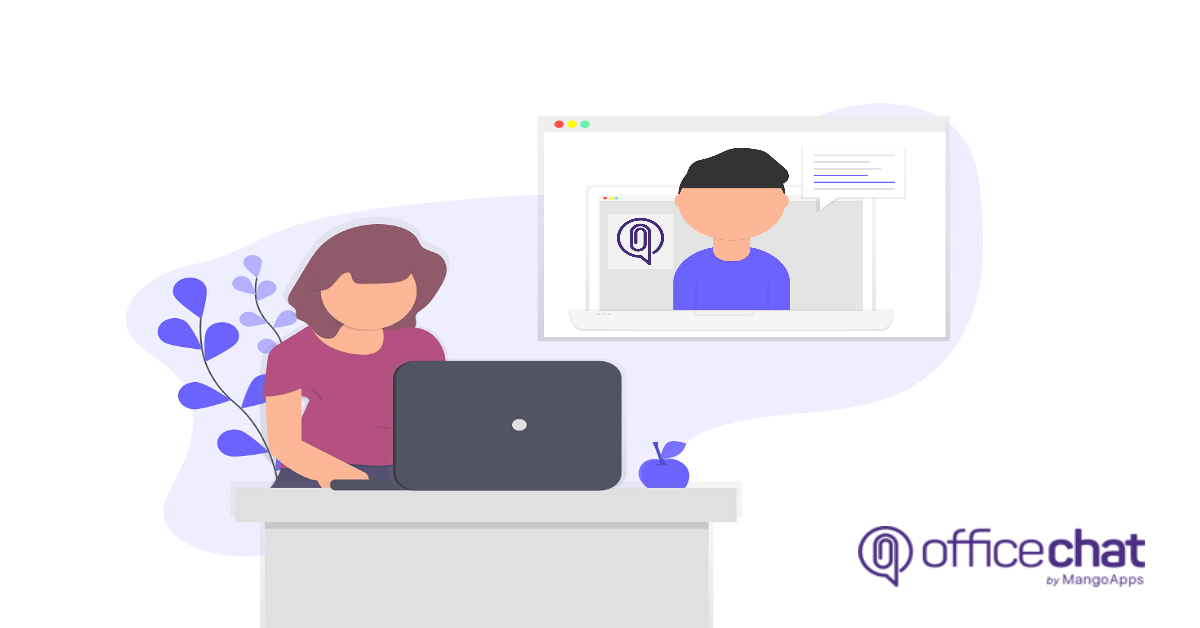 We now live in an era where communication is highly dependent on technology. And while a lot of debate exists about how technological communication influences society, its benefit to business is without a doubt. Employing video chat and other kinds of alternative communication methods can help organizations streamline team collaboration, enhance internal communication and boost productivity. By 2030 the hyper-connected and tech-savvy millennial generation will make up 75 percent of the world's workforce. Research and experience have repeatedly shown that Generation Y prefers communicating with video conversation. Today we want to take a look at what video chat is and how video chat helps businesses incorporate an internal communication and collaboration plan designed to suit the new age workforce.
Why Video Chat?
Business communication via memos, letters and written words have always been a part of company culture, so integrating email into the system was an easy and natural process. But in our current society of advanced and improved electronic communication, conducting business over email is no longer necessary. Sending important messages over email today is not only time consuming but often results in delayed responses and decision making. Companies have found greater success in implementing new and effective mediums like video chat to boost employee productivity. Video chat allows individuals to communicate with clarity through video calls, screen sharing and voice calls and even helps reduce corporate communication costs. And for businesses with teams distributed across time zones, video chats and screen sharing are a much faster and more practical solution that long-distance phone calls.
How Video Chat Helps Your Business
Interact and Communicate

Studies show that body language comprises 55 percent of communication. Video chat helps businesses improve communication and re-establish relationships by restoring communication indicators and clues that are lost in written form. During a video chat, participants can see the body language and facial expressions of every member, resulting in more efficient and faster collaboration for all parties. It also helps employees feel more involved in team conversations, contributions and decision making and improves trust and understanding between teams.
Connect With One Software
With a software like Office Chat, you can easily connect all of your employees together at any location through video chat, voice call and screen sharing. Video chat helps businesses by allowing remote employees to stay up to date and sales teams and other workers to leave the office as without missing out on important information. Allowing consistent and clear communication from anywhere frees up workers to go and do what they need, resulting in better management among teams and greater goal progress and business success.
Save Time and Money
Using video chat as an internal communications tool helps reduce costs by avoiding tedious IT procedures and installing expensive software. Instead, meetings can happen at the click of a button with Office Chat. Timely and productive meetings where everyone can actively participate reduces decision making time and is immensely beneficial for company returns.
Improve Efficiency and Productivity
Office Chat video calls allow you to conduct meetings with multiple people via video and audio. Conveniently connect with coworkers from all over the world in the office, at home or on the go.  Video chat lets managers connect individually with their employees to access strategies and hold discussions or helps employees organize team meetings completing projects faster and encouraging efficiently. Communication abilities with video chat are endless, ensuring better time management and improved productivity.
Go Mobile
Employees can access Office Chat from multiple platforms such as web browsers, smartphones and desktop apps. Quality conversation on any platform provides instant help and information at any time. With Office Chat, collaboration can focus on tackling the real issues rather than trying to coordinate team location and means that you don't have to be sitting in front of a computer in order to be productive.
Boost Diversity
With advancements in technology, businesses can now offer opportunities that were not available a few years ago. Video chat helps this innovation by opening up opportunities to differently-abled employees. Video chat, for example, allows the deaf employees to communicate and collaborate much more effectively with body cues and sign language.
Video chat is the next step in business communication advancements and opportunities. Adapting and utilizing video chat helps businesses connect better to younger employees and help them save time, money and important resources. These new communication tools also make it easier to work where and how you need to stay productive, increase opportunity, build team trust and increase collaboration.