We are pleased to announce Office Chat 2.9, the first release in 2018 on all platforms. This release includes the following enhancements & improvements and goes live in phases between Jan 17th – Jan 22nd for all our Office Chat customers.
New Features for the Office Chat Admin
Remote Management of Windows & Mac Clients:  Windows Desktop  & Mac Clients can now be remotely management by Office Chat domain admins. Remote management of these clients includes ability to perform the following actions:

Auto disable access to Office Chat immediately for a desktop/mac logged-in user. User receives an in-app push notification which disables further access and logs him out.
Auto wipe out application data downloaded by a desktop/mac logged-in user. User receives an in-app push notification which wipes out all downloaded Office Chat app data and logs him out.
Introducing Audit Logs: Actions that change configuration, settings and other important information are now audited in Office Chat and available to all domain admins.  If there are multiple Office Chat domain admins, you now have tracking of  changes made by other domain admins in the audit log as well. The items that are tracked in the Audit Logs include:

Deletion of a file
Deletion of a group
Group admin privileges given or removed from a group member
User invite setting changed
Auto message delete settings changed
Who can delete group / private chat message settings changed
Billing cycle (monthly/yearly) or plan changed
Extra users auto-deactivated if monthly billing fails on a yearly plan
Group settings (e.g., who can create new group) changed
Group made or removed as a default group
User made or removed as a domain admin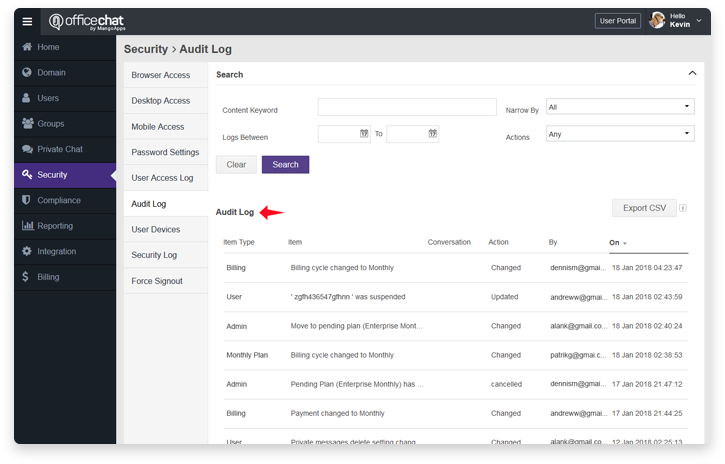 Sending Debug Logs On Behalf Of Your Users To Office Chat Support: Domain admins now have an option to get the debug logs from a user's device (desktop, mac, iOS or android) who is reporting a issue. The debug logs are automatically sent to Office Chat support. This capability should help get all the information we need for any ticket and result in faster resolution of your ticket.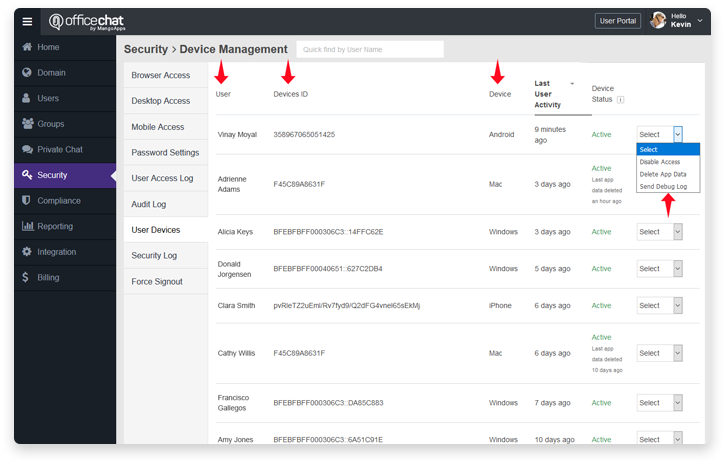 New Share Settings: Admins can now enable sharing of files and messages to external apps (e.g., Email) on your mobile device. By default this setting is OFF and the domain admin has to enable this for their domain.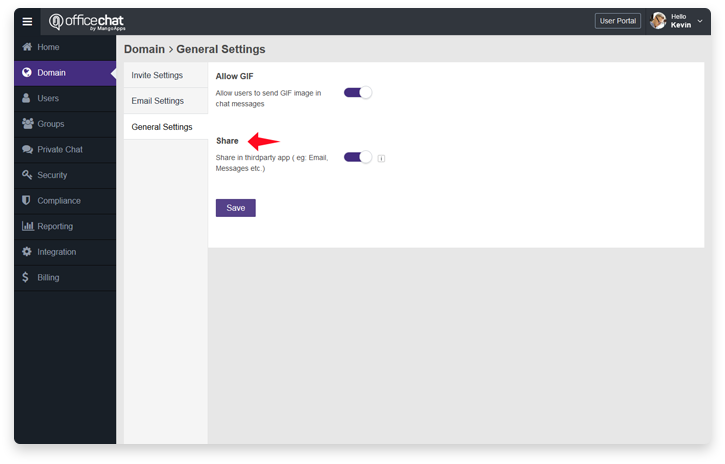 New Enhancements in Windows Desktop & Mac Clients
New Group Settings: The following new settings have been added in this release

Who can see group members:  Group chat admins can now control who can see group members from the windows & mac clients.
Delete on read: Delete on read option for chat message will be available based on the value for who can delete messages set by your domain admin.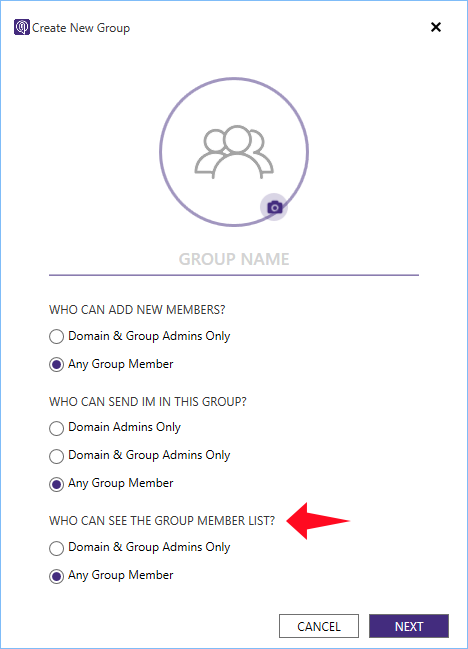 Support For Remote Management Of Client by Domain Admin: Windows Desktop & Mac Clients now have the in-built support required to allow the domain admins to remotely manage these clients including auto disable access to office chat, auto wipe-out application data downloaded and automatically send debug logs to office chat support.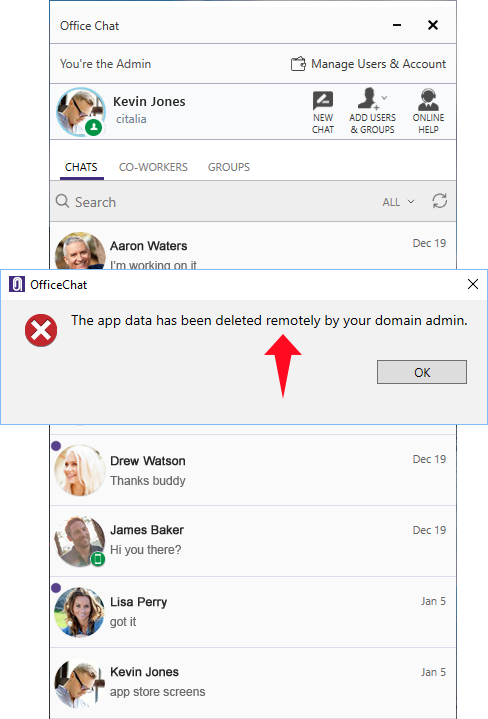 Improved Experience of Copy & Paste for Files: You can now copy images using Copy/Cmd + C and directly paste & send them in 1 step using Copy/Cmd + V in a group.
Last Position of Chat Window Remembered (Desktop Only): The last position that the user keeps the chat window is now remembered when the chat window is closed & re-opened the next time around.
New Enhancement in iOS & Android Apps
Ability To Forward Files, Media & Messages: You can now forward files & media from one chat group to other chat groups without having to download and re-upload them. Similarly one or more messages can be forwarded from one chat group to another. Additionally if the domain admin has enabled external/public sharing of files, media and messages, then users can forward a file/media/message using external apps like email to anyone outside the company.