We are pleased to announce the release of Office Chat 2.7 for all platforms. This release includes the following new enhancements & improvements and is scheduled to go live between Nov 2nd & Nov 10th, 2017.
New Feature for the Office Chat Admin
Create User Accounts With No Email Address: Office Chat now allows you to create accounts in your office chat network without any email address. This is a great way to support the following use cases

You have employees who don't have an company email address and you don't want to use their personal email address (@gmail / @yahoo etc) but need them to be part of the groups created in your office chat network
You want to create office chat accounts that represent rooms, stores, reception desk etc (which don't have a real email address) and perhaps different people in shifts use the rooms/stores/reception desk etc.  and need to communicate in groups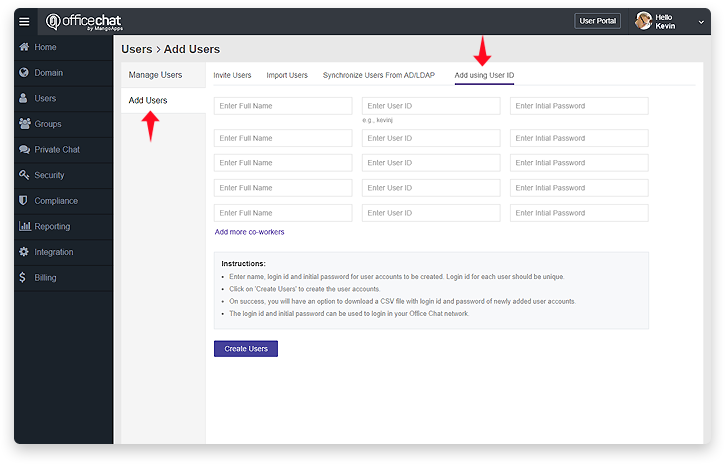 New Enhancements in Windows Desktop & Mac Clients
Create New Group: There is now a 2 step way to create a group which allows you to give it a name, assign a picture and configure settings in step 1 and invite co-workers in step 2 of the create group flow. You can access this new option from the top menu under 'Add Users And Groups'. The existing way of starting a new chat with a set of people which also creates a group is still available if you prefer that way of creating a new group.
Group Chat Menu & Group Settings: The actions in the group chat menu have been re-organized to make it easier to find and use. The group settings UI has been simplified to make it easier to configure the settings for group that you're the admin of.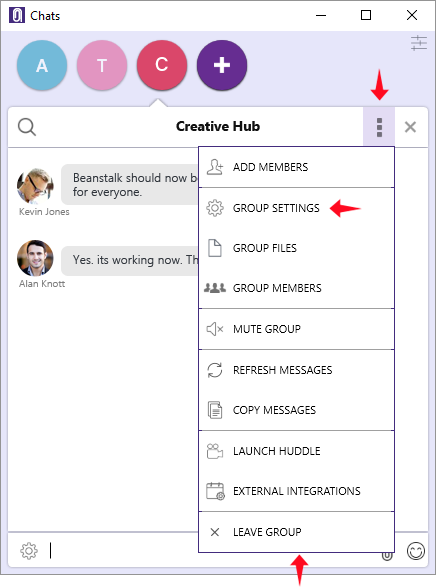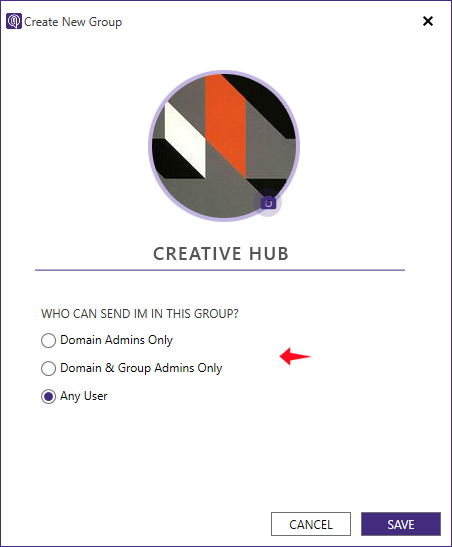 New Enhancements in Office Chat for iOS
iOS 11.x Supported: This release of Office Chat for iOS is certified to work on iOS 11.x release
New User Signup Improvements:  If you have users in your company signing up from Office Native Mobile apps, the experience has been simplified to ensure that they're are able to join your company domain with ease.
Bug Fixes in this Release
On Window Desktop

Remember me settings: Even when the user had the remember me setting turned-off, the login id/password values were being remembered by the client. This issue has been fixed in this release.
Native Image viewing: When a image shared in chat window was clicked it wasn't automatically opening in the native full viewer. The user had to download and view the image. This issue has been fixed to open the image on click directly in the native viewer now.
Video viewing: The size of the video player that opened by default was very small to view. This has been resolved in this release.

On Mac

Presence: Intermittently the presence of users in the people tab would show offline when they were actually online. This issue has been fixed in this release
GIF: The GIF can now be differentiated from a regular image with the new GIF label

On iOS

For Active Directory/LDAP integrated domains users were able to attempt change password from the clients which shouldn't have been allowed. This issue has been fixed in this release.
Crash when a media was attached from the photo gallery has been fixed.

On Web

Forgot password screen in the non-logged in view now has captcha protection from spammers.