Office Chat, is a simple and secure team communication app for co-workers to securely communicate without the need to exchange phone numbers or friend requests first. We are pleased to announce the release of Office Chat 2.4 for all platforms which includes the following new features and improvements:
New Features for Office Chat Admins
Ability to Invite or Import New Users in Bulk: From this release we have added the ability to invite users from the Admin Portal. The 3 options to invite are:

Invite multiple users by providing their email addresses
Invite multiple users by importing user details from a CSV file
Invite/Sync users by connecting Office Chat with your company Active Directory / LDAP (enterprise plan only)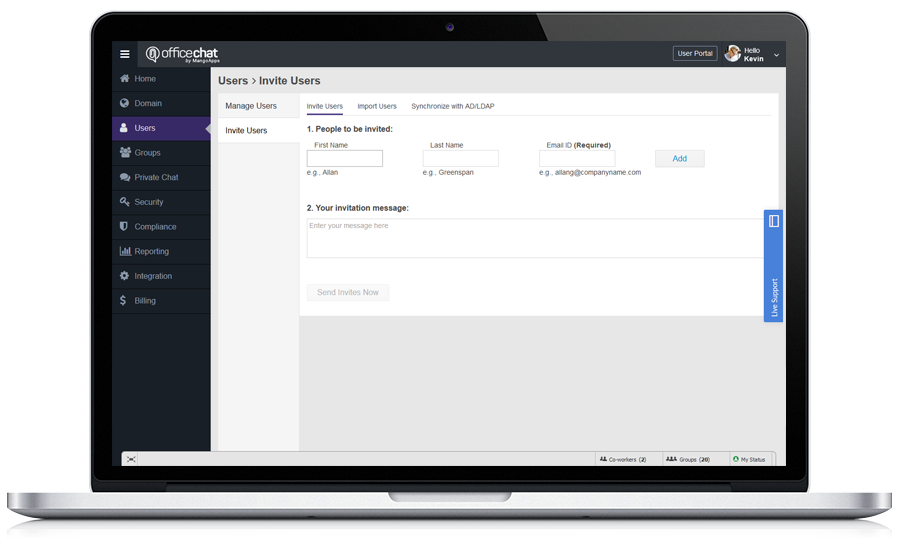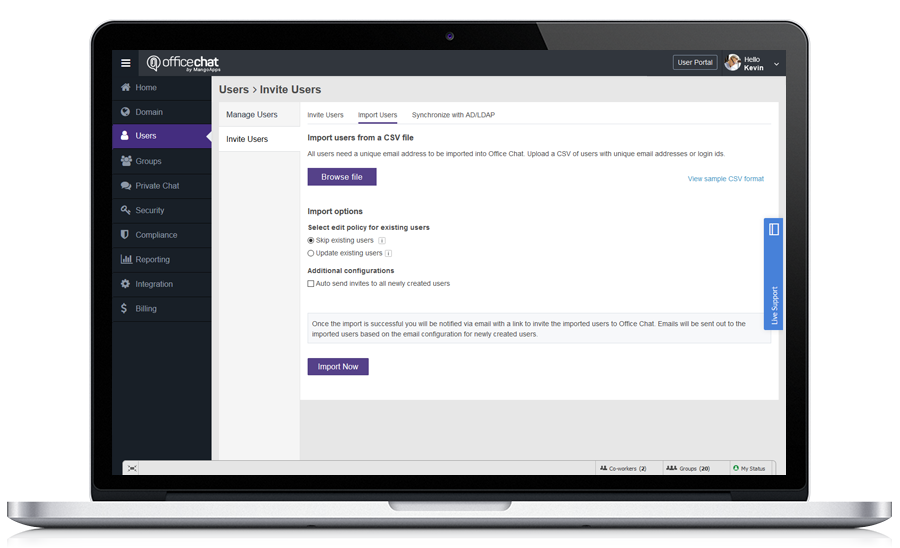 New Settings & Control for Domain Admins: The new admin settings added in this release are:

Who Can Create New Groups: This setting allows admins to control who can create new groups in their network. There are 2 choices here:

Any User can Create a New Group (default)
Only Domain Admins can Create New Groups

Who Can Sent IM in a Group: This setting allows admins to control who can send IM in a specific group. There are 3 choices here:

Any Member of the Group can Send IM (default)
Domain Admins and Group Admins can Send IM
Only Domain Admins can Send IM

Make a Group Default: This setting allows admins to mark one or more groups in the network as "default". Marking a group default results in all members of your network to be added to it. New members that are invited into your network in future also automatically get added to the default group. Members can't leave a default group. The "All Of Us" group and the new "Admin Announcements" group are examples of pre-shipped default groups in your network.
Allow Sharing of GIFs in Chat Messages: This setting allows admins to enable or disable sharing of GIFs in chat messages. Default is to allow sharing of GIFs in chat messages (powered by tenor) 
All these settings & control are available on both Office Chat Business & Enterprise Plans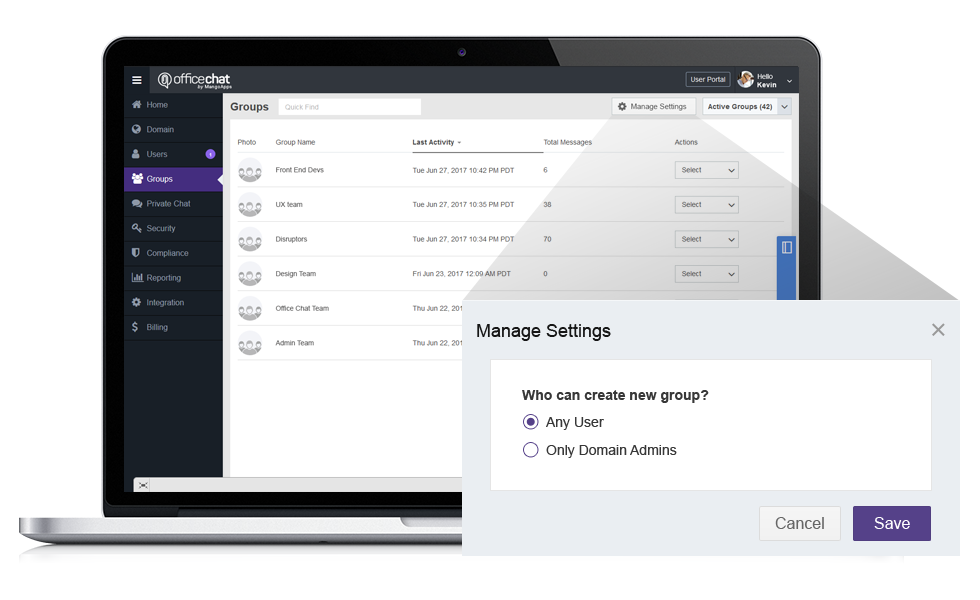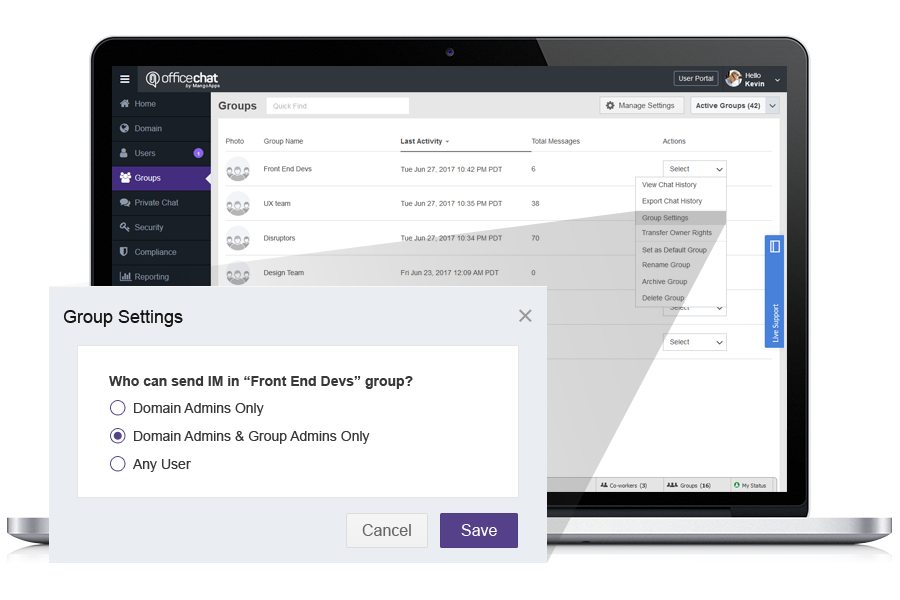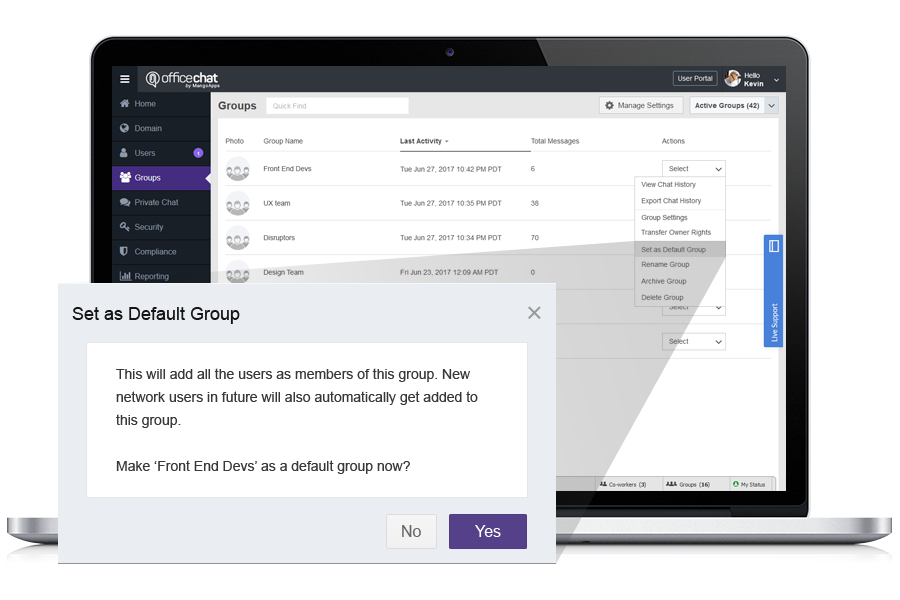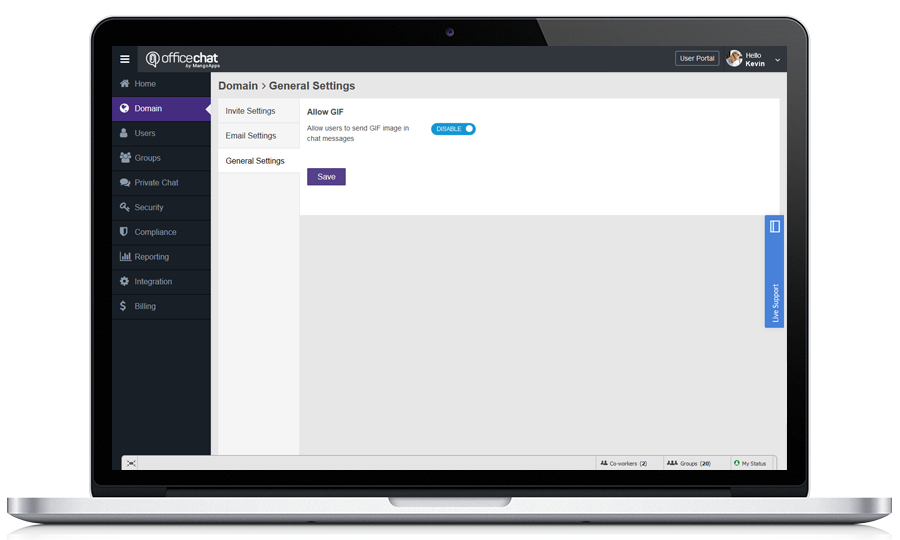 New Features on Windows Desktop, Mac, iOS, Android & Web Browser Clients
New Admin Announcements Group: There is a new group called "Admin Announcements" where only domain and group admins can send IM. All users of your network are by default added to this group, so it's a great place for admins to share important announcements and news with everyone in the company. This group has no reply back capability so there is no distraction and noise caused with everyone replying back in a group chat. Members can't leave this group which ensures that they don't miss important company announcements. Like any other group, admins can share text, video and audio messages in this group.
Ability to Share GIFs: This release of Office Chat allows users to send and receive GIFs on any of the Office Chat platforms. GIFs are a fun and unique way of expressing your emotions.
Improved Security via Proxies on Windows Desktop: When messages from your windows desktop client go via a proxy, Office Chat now checks that the proxy and connection is trusted which ensures that a man-in-the-middle can't read your message history received over HTTPS.
Fixes in this Release
Messages getting cut on iOS client: Messages with certain characters were getting cut on iOS resulting in incomplete messages. This issue has been resolved in this release and you'll see the complete messages on iOS clients.
MAC client wasn't auto-logging in: The issue that resulted in MAC clients not auto-logging in even when 'remember me'  is checked has been fixed in this release.
Logging in issue on copy/paste: During copy/paste of login id or password if an extra space got copied the login used to fail. This has now been rectified to remove trailing and leading spaces from both login id and password fields.
VAT Registration field for customers in Europe: When entering your business VAT registration number to get tax exemption you now don't need to enter your country code.
We look forward to receiving your questions and feedback as you start to use these new features.