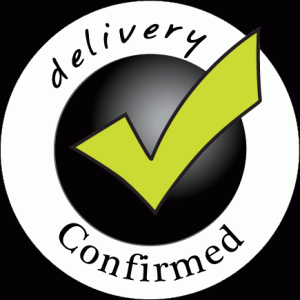 With the release of Office Chat 1.2, employees can get Message Delivery Confirmations, Delete Messages, and Set Custom Statuses, while also having Quick Access to Teams they are a part of and an overall Improved User Experience in Workplace Messaging.
Office Chat, the simple and secure messaging service for coworkers, is happy to announce its best release to date with version 1.2 across all platforms – iPhone, iPad, Android, Windows Desktop, and Mac.
Anyone with a work email address can sign up for Office Chat and easily find and message anyone in their organization without the requirement of exchanging phone numbers. The following features have been added to Office Chat version 1.2:
Office Chat 1.2 – Key New Features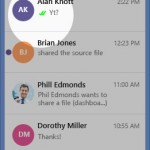 Message Delivery Confirmation:- Alongside every private message you send to a coworker, you will now see a status of sent as soon as the message is successfully received by the server. This status will change to delivered as soon the message is successfully delivered to the recipient's device. For team messages alongside every message you send, in the team, you will only see a status of sent as soon as the message is successfully received by the server.  Learn more about this feature.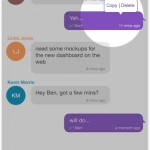 Delete Your Message or Team Conversation:- You can now delete individual messages you've sent in a private or team conversation. If you are the creator / admin of the team, you can also delete the full team conversation — which deletes the team and it's entire chat history. Deleting individual messages and a team conversation is permanent. They are deleted from your device, the Office Chat servers, and from all recipient devices. Learn more about this feature.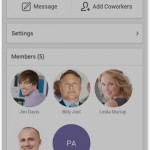 New Custom Status:- Your custom status is a real time indicator of what you are doing. Custom statuses will help you stay up-to-date with your coworkers. Real time presence of coworkers like Online, On Mobile, and Offline  are the default statuses for everyone. With this release, you can now select from a set of new pre-defined status options like At Work, Interviewing, In a Meeting etc., or you can type in your very own custom status. Your status will be seen even when you are offline. Learn more about this feature.
Quick Access to Teams & Coworkers:- Now it's easy to send a message to your team. There's a dedicated list of all teams you are a part of (just like the dedicated list of coworkers) available as a tab in the app, so you no longer need to dig around to find the right team conversation to post your message to.
For the Company Admin:- When you are already logged in to one of the Office Chat platforms, you don't need to launch a web browser and re-login to the admin interface to deactivate a user. As a company admin, you now have the option on the user's info page to deactivate the user directly from your mobile device, desktop, or mac.
More UX Improvements:- Here are the key UX improvements made to provide you with a more effective and fast experience in the app.

Default Pictures: Employees who haven't uploaded a picture and teams that don't have a picture set, will by default be given a picture with a unique color and initials for easy identification.
Typing Status: While your coworkers type or pause while typing on any Office Chat platform in a private or team chat, you'll see real time typing /paused indicators along with the picture of who's typing / paused.
Presence Toasters: If coworkers are not online and you open their chat window, you will see a presence toaster. The presence toaster will let you know that the user is not online. It will also inform you of when you can expect the user to see your sent message. Like before, you can still send messages to an offline user — they will see them marked as new when he/she next logs in to Office Chat via any platform.
New Landing Page on Mobile: New employees get to see the pictures of other coworkers already on Office Chat directly on the landing page after logging in to the mobile app and can tap on the picture to initiate a chat.
Thank you for your continued patronage. Let us know if you have any questions or feedback as you start to use these new features & improvements.