Instant messaging software has been around for nearly twenty years. We've all likely had some experience with it but just in case, Merriam-Webster defines instant messaging as "a means or system for transmitting electronic messages instantly." Many of us remember the emergence of instant messaging software (IM) in the 1990's. It was so exciting to jump on the computer and chat with your friends. It gained a major foothold in the mid 1990's with ICQ from Mirabilis1 and in fact many of the instant messaging clients we see today are still based on this model.  From our AOL buddy list to later incarnations from Microsoft and Google, instant messaging changed the way we could communicate with our network of people.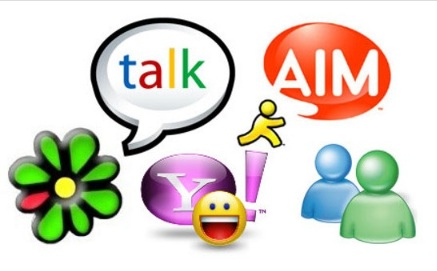 With the advent of social media, instant messaging started to lose its value.  MySpace, Facebook, and Twitter began to overshadow IM because of its broader reach and community impact.  However, with relatively recent integration in Facebook and Google product instant messaging is gaining traction again especially in the business world. People are really embracing the value in having the tools to converse with someone instantly over a variety of platforms. You can engage in an instant, private conversation in a non-private area – especially via mobile phone. That can't be said for any other medium.
In the age of social media, we crave instant access to communication and information. We aren't going to wait until returning from vacation to share it with family and friends. You can post where you are, who you are with, and support it with an image within two minutes or less.  Social applications have created a network of instant communication that creates and satisfies our need for instant feedback.  It's not only applicable to our personal lives; enterprise social software is changing the way business is conducted too. One of the most valuable pieces of social software in the professional world is instant messaging. Unfortunately not all enterprise social software has instant message capabilities and relying on consumer formats doesn't always satisfies enterprise needs.
Instant messaging has the power to free up so much time and allow for increased productivity.  IM gives you the tools to have real time communication and ad hoc discussions both internally and with external business partners. It offers flexibility allowing you to hold group chats, simultaneous single person chats, send images/attachments, video, from anywhere and you don't have to incur any additional costs.
Mobile devices have also had an impact in instant messaging. There are plenty of consumer messaging apps that help people stay connected on the go. Since most work places desire global connectivity to serve a spread out workforce, it's essential that secure instant messaging is accessible for the professional sector too.   With the combined need for instant messaging in business and the functionality and adaptability of mobile communication – it's only natural that a reliable and secure messaging app for business should emerge.
So what is instant messaging? It is a powerful and simple communication tool that we can use on mobile devices or our desktops. It connects us to people we might not otherwise be able to contact easily due to location. We already expect instant communication, instant messaging gives us the power to give and receive input in a time frame consistent with our expectations.
1 Tyson, Jeff, and Alison Cooper.  "How Instant Messaging Works"  28 March 2001.  HowStuffWorks.com. <http://computer.howstuffworks.com/e-mail-messaging/instant-messaging.htm>  13 June 2013.