In a time where so many of us are conducting business on the go, it only makes sense to have access to better mobile communication tools. There are quite a few mobile instant messaging applications yet few are specific to business. In a mobile business world, how do you go about getting answers to questions that you need in a timely manner? How do you prevent major communication backups that hold up progress? Email, phone calls, instant messaging? See how these options play out when tested in daily office scenarios.
1. You need more information before you can move forward on a task.
As you are are outlining a project, you have a question that you need answered before you can move forward.  You are fairly certain that either Bill or Ted on your team, can lead you to an answer but you aren't sure who else may offer insight.
Send an email to Bill and Ted.  What you weren't expecting is that Bill forwards it to Susan and Susan forwards it to Jordan.  Jordan replies to you with an answer but forgets to reply all. So Bill, Ted and Susan still think that no one has answered you. Susan replies all but cc's William because he feels he should be in the loop too. William replies with something different than what Jordan had stated so Jordan replies again reiterating her earlier response that only you saw. Now you have to go back and search for her initial response and forward it to the rest of people and compare Jordan and William's answer. Wait, what was the question again?
Call Bill and Ted – you will find out that you need to schedule a conference call with not only them but William, Jordan and Susan. Let the calendar coordination begin.
You are online. You see that Bill and Ted are online so you create a group message to start a chat. You ask the question. Bill says, hey let's ask Susan, she's the new lead on the project. Ted agrees but also suggests asking Will. You create a group chat for you, Bill, Ted and Susan.  Susan suggests bringing Jordon into the conversation. So you add Jordan. Jordan suggests adding William so you do. You are all in a group chat now. You ask  the question. Jordan and William both answer and you can actively discuss the differences in their answers. You reach a conclusion agreed upon by all. You save the chat for future reference and create a group called Project H so that you can easily start a group chat with these team members again.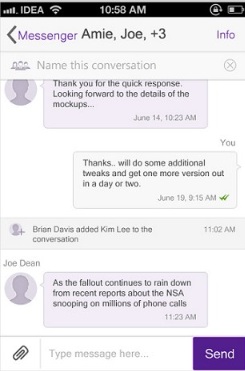 2. You need updated documents, yesterday
You are in the lobby and about to meet with a client. As you are browsing through your notes, you realize that you have the old screen shots and you need to get the updated screen shots from Hillary of the new product design to present in 10 minutes.
Call Hillary and hope you don't get her voicemail.
Email Hillary and hope she checks it in the next five minutes.
Send Hillary and IM from your mobile (because you see she's online) asking for the latest mockups. She gets your IM and can easily use the bulk share tool to share the mockups with you. You download the zip file she sent and you are ready for your client meeting in under 5 minutes.
3.  You are on a deadline.
You need to ask project managers Margaret and Sophia for some project specifics. The three of you are housed in different office locations. You need to act quickly because your first deadline is EOD tomorrow.
Try t o set up a meeting Margaret and Sophia. It's a short turnaround time so they may not be available.
Email them both, knowing they don't often respond to emails in detail or very quickly because they have so many to get to.
When Margaret and Sophia are online and available, send them an IM. They can respond with a few details to get you started and attach the document that has the more project specifics.
In each of these scenarios, by using instant messaging either on your desktop or your mobile and using  you can keep the workflow moving. With presence notification, you can see who is online and available. You can access the experts in your company individually or as a group. By using group messaging information doesn't get lost in email trees. You avoid people being left off emails that should have been (or shouldn't have been) included.  You don't have to waste time deciphering voicemails. You can save group chats for future reference and send multiple files via chat. Since you can use IM on mobile, you can be connected to your team regardless of location.
Office Chat messaging software saves you time and helps you increase your productivity.  Download Office Chat for free to find out how much more productive your office can be.