Effective communication is essential in the workplace, especially in small business. You might think it's easier for small businesses to communicate because of the smaller number of employees. However, in small business most employees wear a variety of hats and need to be able to easily communicate across departments without wasting time or resources.  Instant messaging allows private and quick communication regardless of location which is critical for a small business workforce. Remote workers can easily communicate with team members and share files and images to keep productivity and collaboration moving forward.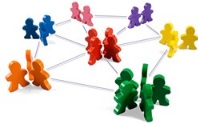 The Pros Of Using Group Messaging In Small Business
Allows teams to collaborate across platforms. With a mobile workforce, you have to have tools that allow colleagues to communicate across a variety of channels. With group messaging client like Office Chat,  you can use it when you are in the office at your computer or from your mobile device when you are in the field.  You can connect in any situation.
Promotes better customer service. With information at our fingertips at any given moment, customers expect instant answers to their query. With group messaging, you can easily ask team members questions without even leaving your desk or leaving the interaction with the customer. They can happen simultaneously.
Reduces the need for time sucking meetings. By engaging in a quick group chat, you can give status updates, share files and make decisions in a matter of minutes. You can collaborate with your colleagues that work remotely or outside of main campus.
Enables fast decisions. Instead of going in circles with email or playing phone tag, you can make quick decisions by getting all the decision makers on one group chat. You'll be able to move forward on objectives faster and be more informed.
Removes communication hurdles. If team members are better able to communicate, make decisions, provide better customer service, and stay connected to their team in the same way regardless if using a mobile device or desktop, the more productive they will be. The more communication hurdles you can remove from your small business, the better.
Allows for quick, targeted discussions. By have group group chats in small business you can engage with a target audience both internally and externally. It's like have a more effective conference call without the hassle or disruption. Plus, you can instantly share files and images.
Cost effective. Saving money is always on the mind of small business owners. With instant access to your team, you can reduce the need to travel for face-to-face meetings and expenses incurred from business travel. Many instant messaging clients are free so you don't have to invest anything to use a great communication tool.
When looking for a  on messaging software, look for one that is tailored for business. Google Talk, Facebook, and Yahoo, are all great for your personal life but you should have a messaging client that was designed for business and has a mobile app. A group message client designed for business will offer better security features, chat history storage, as well as privacy options like off-the-record-mode. Group messaging is a great tool you can use to promote the best collaboration in a small business work environment.