Chat software is a valuable tool to use, especially in business. Many businesses have a workforce that is spread out over different buildings, states, and countries. Companies need a way to communicate quickly and efficiently and regardless of geographic location. There are several chat software options and it's important to pick the one that fits your company culture and business needs. Here is how some of the best chat software for business compare across important features.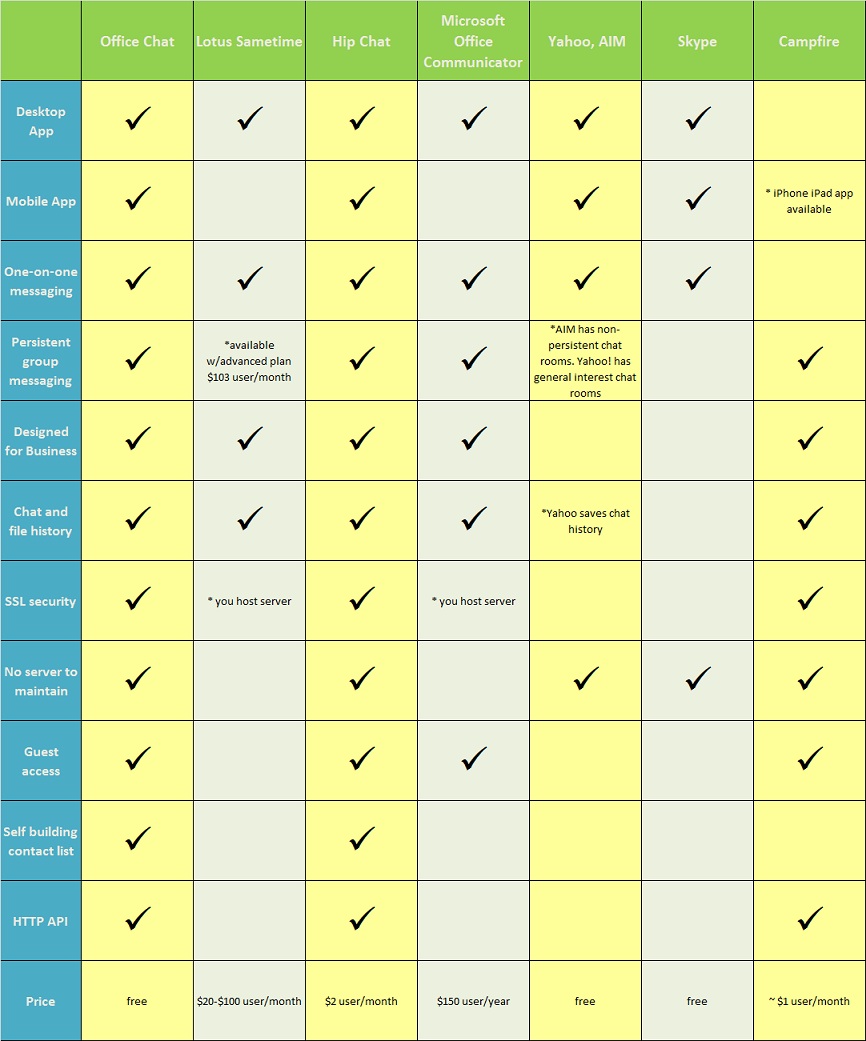 When choosing chat software for business use, it's critical to evaluate the software based on the features that matter most for your company. Security, price, and functionality are a few of the most basic and important to consider.
Designed for Business

Office Chat, Hip Chat, Campfire, Lotus Sametime and Microsoft Office Communicator were all designed for business which makes them stand out from other consumer grade chat software like Windows Live Messenger and Skype.
Mobile App

Having a mobile app is becoming crucial for businesses. We conduct all kinds of business from our mobile devices in our personal life and the expectation for conducting mobile business operations is ever present.  Office Chat and Hip Chat are the two clients designed for business that have a mobile app. Campfire does have an iPhone/iPad app but it does not receive push notifications.

Persistent Group Messaging

Team collaboration is usually the point of using chat software in business. Campfire is designed specifically for group messaging and doesn't focus on one-on-one chat service. Hip Chat and Office Chat both offer persistent group chat as well as one-on-one messaging. They also maintain a chat file history and Office Chat has an off the record feature as well.

SSL secure 

Office Chat, Campfire and Hip Chat  all have SSL security. It is noted that some of the other products require you to host your own server so it would be possible to make them SSL secure.

Price
 Office Chat and Hip Chat have a lot of common features but when it comes to the bottom line, Office Chat is free and Hip Chat is pay by user.
Determine the properties and features that are most important for your business, find the right instant messaging client and put chat software to work for you and your team.