Overview
If you're using Chrome, Safari or Firefox, your browser can generate web notification, web Notifications informs you about chat messages that need your attention, even when you're looking at a different application or are away from your computer altogether.
Office Chat will display a small popup window on your desktop when you are in a different application. The popup will contain the first portion of the message you received and can optionally play a sound. See Configuring web notifications for more details.
Enabling Web notifications
To enable web notifications, click "My Status" on the Social bar then "Setting".
If you see a green Enable web notifications button, you'll need to click that button and tell your browser to allow Office Chat notifications.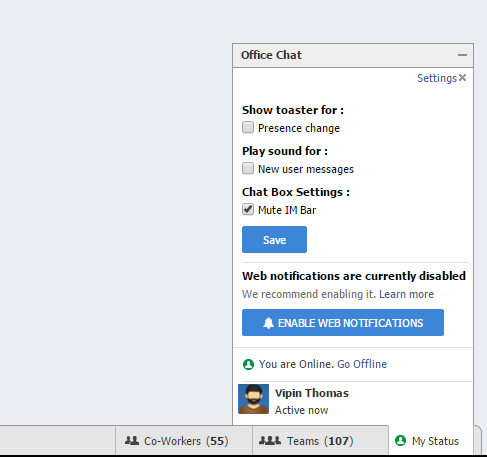 If you are having issues getting notifications setup it's possible that permissions have been denied for allowing us to show them. To check and see if that's the case, use the guide below based on the browser you are using.
Google Chrome 31+
Click on the lock icon on the left side of your URL bar. Select Notifications, then "Always allow on this site."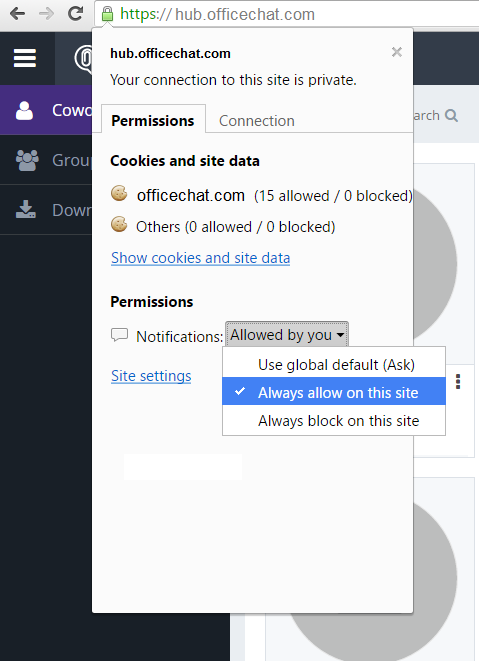 Alternative:
Copy this link

chrome://settings/contentExceptions#notifications

 and open it in a new tab.
Find yourdomainname.officechat.com and remove it from the list by clicking the "X" on the right hand side.
Mozilla Firefox 28+
In the tab with yourdomainname.officechat.com loaded, right click on the page and click "View Page Info".
In the panel that opens, click the tab "Permissions".
Scroll down to "Show Notifications" and check "Use default" and close the panel.
Apple Safari 7+
Open the Safari Preferences panel. ( Safari Menu -> Preferences )
Select the "Notifications" tab.
Select yourdomainname.officechat.com and click the "Remove" button.
And that is it! Once you do that, go back to your Office Chat domain and refresh. You should be all set to get notifications for chat messages!
Disabling Web notifications
If you would like to disable Office Chat web notifications in Chrome & Firefox, while on your Office Chat domain, select the lock icon in your browser's address bar and under Permissions change the Notifications permissions to block. To disable Office Chat Web notifications in Safari, in the Safari header select "Safari", then "Preferences", then "Notifications." In the notifications tab you will want to find officechat.com in the list of websites and select "Deny."
Supported platforms
Web notifications are supported in the standalone Office Chat desktop application and in recent versions of Chrome, Firefox, and Safari. If you aren't sure whether your browser is supported, visit http://caniuse.com/#feat=notifications.